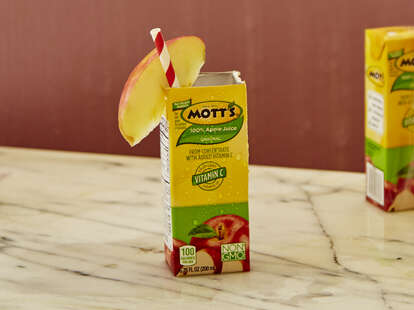 Matthew Kelly / Supercall
In this take on a Lion's Tail—an early 20th century tipple—boxed apple juice takes on a powerful mix of scotch, Applejack and bourbon. The peat-heavy Black Bottle blended scotch perks up the sweet bourbon, while Applejack gives the apple juice some extra heft. The combo lands the little pugilist in a whole new weight class.
Heavyweight Boxer
INGREDIENTS
1 6.75-oz box

Apple juice box

.75 oz

Bourbon

.75 oz

scotch

.75 oz

Applejack

.25 oz

allspice dram

.25 oz honey syrup
.75 oz

lime juice

apple slice
INSTRUCTIONS
Step one
Unfold the top of the apple juice box to access a clean edge to cut. Using scissors, cut horizontally along seam to open box.
Step two
Add 1 oz apple juice to a shaker and discard remaining juice (or reserve for more drinks).
Step three
Add remaining liquid ingredients to the shaker with ice, and shake.
Step four
Strain back into the apple juice box.
Step five
Garnish with an apple slice, and serve with the attached straw.
Contributed by Supercall