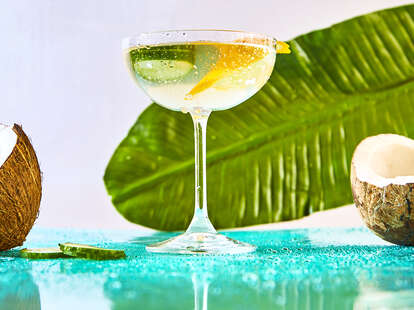 Marisa Chafetz / Supercall
Marisa Chafetz / Supercall
A Coconut Martini shouldn't be a sugary monstrosity. It should be refined and refreshing—a sophisticated cocktail that just happens to be beach-ready, like a really stylish cover-up. This shockingly loyal take on a Martini is bright and subtly tropical, with the same boozy power of the original stirred and strong sipper. And it's seriously easy to make.
To harness the flavor of coconuts without using thick and sugary coconut cream, we opted instead for a light, silky coconut water (one made without any artificial sweeteners or additives like Vita Coco, CoAqua or Harmless Harvest) and paired it with an herbal London Dry gin. Garnished with orange zest and a cucumber wheel, this easy-drinking 'Tini is floral, crisp and way too easy to gulp down—remember, it is still a real Martini, so take it slow.
Coconut Martini
INGREDIENTS
2 oz

Gin

1 oz

Coconut Water

Orange zest

Cucumber
INSTRUCTIONS
Step one
Add gin and coconut water to a mixing glass.
Step two
Add cubed ice to the glass and stir.
Step three
Using a julep strainer, strain the cocktail into a chilled coupe glass.
Step four
Using a Y-peeler, peel a large swath of orange zest. Express the peel over the cocktail, rub the edge of the glass and discard.
Step five
Garnish with a wheel of fresh cucumber dropped into the drink.
Contributed by Supercall