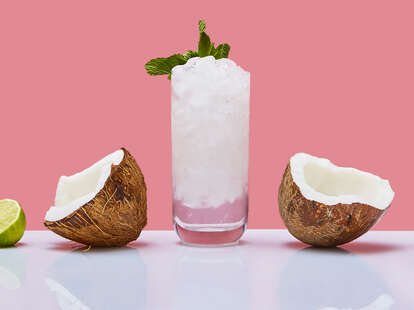 Marisa Chafetz / Supercall
Just when you thought the Mojito couldn't get any more refreshing, this variation arrives on the scene to prove otherwise. Made exactly the same way as the classic cocktail—with muddled mint and white rum—this Coconut Mojito throws a measure of coconut water into the mix. Not only does coconut water give the drink a boost in the flavor department, it also makes this Mojito ultra refreshing and hydrating. While technically you would get the best tasting cocktail if you plucked a coconut straight from the tree and cracked it open yourself, high quality coconut water brands like CoAqua have the same texture and flavor as the fresh stuff.
If you want to experiment with different rums know that the spirit you use at the base of the drink can greatly change the final outcome of the cocktail's flavor. Lighter white rums like Bacardi Superior allow the coconut water's floral sweetness to shine through. Coconut-flavored rums like Koloa Kaua'i Coconut Rum intensify the flavor of the coconut water and make the drink even more layered and complex. For the soda water, opt for a seltzer that doesn't have any salt added to it or any residual minerals. If you find that the cocktail is too sweet for your tastes, you can dry it out by adding half an ounce of fresh lime juice and a dash of Angostura bitters.
Coconut Mojito
INGREDIENTS
2 oz

White Rum

2 oz

Coconut Water

Soda Water

Lime Twist

8-10

Mint Leaves

Mint bouquet
INSTRUCTIONS
Step one
In a shaker tin, muddle the mint leaves and coconut water. Express the lime twist into the tin and discard.
Step two
Add the rest of the ingredients and shake with ice.
Step four
Add crushed ice and top with club soda.
Step five
Garnish with a bountiful mint sprig.
Contributed by Supercall