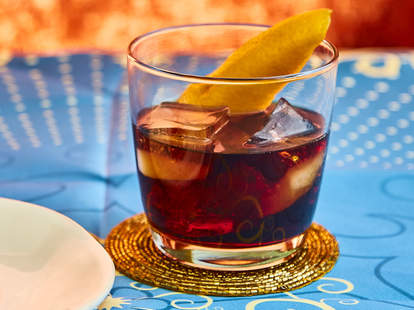 Marisa Chafetz / Supercall
Fans of bittersweet cocktails will jump right on board with this exotically spiced twist on a classic drink. "The cocktail is a variation on a Boulevardier with Remy 1738 Cognac—hence the name 17-Thirdier," says Jeff Hammett, beverage director of Wu Chow in Austin, Texas. "It takes Cognac, sweet vermouth and a bittering agent, Aperol. The saffron bitters create a nice layer for the cocktail because there are no mixers. While the bitters don't dilute, they do add a recognizable flavor that actually prevent the cocktail from being too bitter." If you don't have Punt e Mes on hand, any sweet vermouth would make a good substitution. Serve it with a nice meal—preferably with umami-packed Chinese like they do at Wu Chow.
INGREDIENTS
1 oz

Cognac

1 oz

Punt e Mes

1 oz

Aperol

4 dashes

Saffron bitters

orange peel
INSTRUCTIONS
Step one
Add all ingredients, save for the garnish, to a mixing glass with ice.
Step two
Stir and strain over fresh ice in a double old fashioned glass.
Step three
Garnish with an orange peel.
Contributed by Jeff Hammett