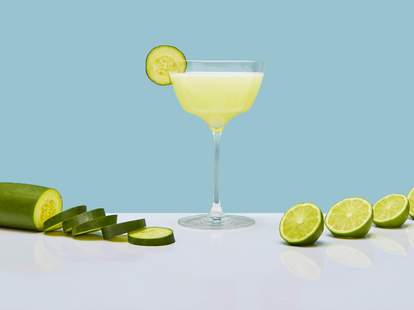 Marisa Chafetz / Supercall
A traditional Gimlet is like a Daiquiri for gin lovers. It's light, bright, tart and downright chaggable, especially with a crisp, dry gin that's not too heavy on the juniper. If you thought that a Gimlet couldn't get anymore delicious or refreshing, this modern variation proves otherwise. Upping the ante with the addition of cucumber, this cocktail is absolutely delectable. In the cocktail, the cucumber adds vegetal cooling notes and a thirst-quenching drinkability. Once beach outings and sunbathing become a daily occurance, this Gimlet will be one of the best ways to beat the heat—or accompany it.
When building your Cucumber Gimlet, it is best to avoid sweeter gins or juniper heavy gins. Instead, opt for a lighter, more floral gin that allows the delicate notes in the cucumber to shine through. Some of our favorite bottlings to use are Fords Gin, Hendrick's (for its notes of rose and cucumber), Plymouth and Tanqueray 10. The type of cucumber you use will also change the flavor of the cocktail. For the most cucumber flavor, use Kirby cucumbers. For a unique, brighter cocktail, opt for lemon cucumbers—if you can track them down. Another pro tip: It is absolutely necessary to use fresh lime juice—no exceptions. The fresher the better. For the best results, squeeze the lime straight into the jigger using a handheld citrus press. This will yield a Gimlet that is lip-smackingly tart and delicious.
INGREDIENTS
2 oz

Gin

0.75 oz

Lime

0.5 oz Simple Syrup
3

Cucumber

Cucumber Wheel, for Garnish
INSTRUCTIONS
Step one
Add the thickly sliced cucumber wheels and the simple syrup to a shaker tin and muddle.
Step two
Add the lime juice and gin to the tin. Top with cubed ice and shake.
Step four
Garnish with the thinly sliced cucumber wheel.
Contributed by Supercall