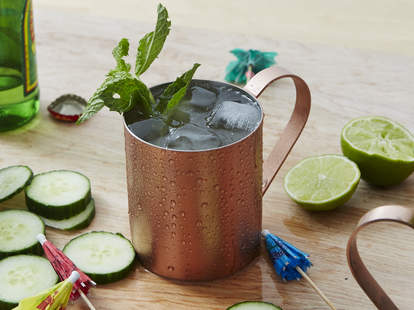 If a Moscow Mule donned an Aloha shirt and went on an island vacation, it would be this drink. Made with cucumber-infused vodka and grassy, funky rhum agricole, this spritzy cooler is delightfully vegetal with an almost savory edge. With orange liqueur and orgeat (an almond-milk syrup) for sweetness and depth, it has the heart of a Mai Tai and the soul of a Mule. For an extra fiery punch, use ultra-gingery Bermuda ginger beer Barritt's as the topper.
INGREDIENTS
1 oz

Cucumber Vodka

1 oz

Rhum

0.5 oz

Lime Juice

0.25 oz

Pierre Ferrand Dry Curaçao

0.25 oz Orgeat

Mint sprig, for garnish
INSTRUCTIONS
Step one
Using a jigger, measure vodka, rhum, dry curacao, orgeat and lime juice into a shaker tin with ice.
Step two
Step three
Using a Hawthorne strainer, strain the cocktail into a copper mug filled with ice.
Step four
Top with ginger beer and stir with a bar spoon to incorporate.
Step five
Garnish with a sprig of fresh mint.
Contributed by Supercall