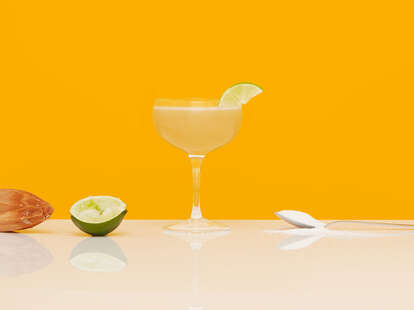 The Daiquiri is one of the most misunderstood, bastardized classic cocktails made today. Over the years, bartenders have warped the bright, citrus-forward cocktail into some sort of saccharine, blender-slush. (We blame spring break, Bourbon Street and Florida). Here's the important thing to remember: A real Daiquiri has just three ingredients. It's made with rum, lime and sugar and it is shaken—no strawberries, ice cream or blender required.
Daiquiri
INSTRUCTIONS
Step one
Add all ingredients to a shaker tin with ice and shake.
Step two
Double strain with a Hawthorne strainer through a fine mesh strainer (to remove any ice particles) into a chilled coupe glass.
Contributed by Supercall
Mix It Up!
For a slightly less sweet, more citrus forward drink, use just half an ounce of the syrup. For a Strawberry Daiquiri, muddle fresh strawberries in your shaker tin (prior to shaking) or cut the syrup ratio to half an ounce and add half an ounce of Massenez Wild Strawberry Liqueur.
Recommended Rum:
Cana
,
Denizen 3 Year White,
Rhum JM Blanc
,
Banks 7 Year