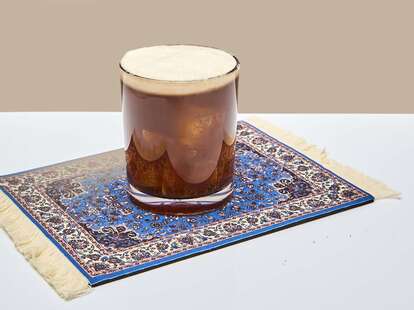 Marisa Chafetz / Supercall
We understand that the idea of milk in a cocktail can be frightening, whether you're lactose intolerant or simply don't want to mix alcohol and dairy. And that's OK because our friends at Nitehawk Cinema found a way to recreate the White Russian without using any heavy cream. "The Dude Abides is more an homage to the flavor and feeling of a White Russian," says beverage director Matt Walker. "We had been playing with floated egg white cocktails for a while when our head bartender Daniel Thompson came up with this gem. The prep and build are complicated but well worth the effort." The recipe calls for a homemade coffee-infused vodka, which takes about two weeks of downtime, but the result will make you glad you took the extra time to make it. Ancho Reyes adds a touch of spice, while the dark beer gives the drink a deep, rich flavor. An egg white provides the frothy, decadent head, which won't leave you missing any dairy.
The Dude Abides
INSTRUCTIONS
Step one
Starting with an ice-filled Old Fashioned glass, pour your favorite dark beer to the halfway point.
Step two
Add all other ingredients to a cocktail tin and dry shake for at least 20 seconds.
Step three
Crack the tin open, add ice and shake again for 10 seconds.
Step four
Double strain over the top of the dark beer, floating the cocktail on top.
Contributed by Daniel Thompson