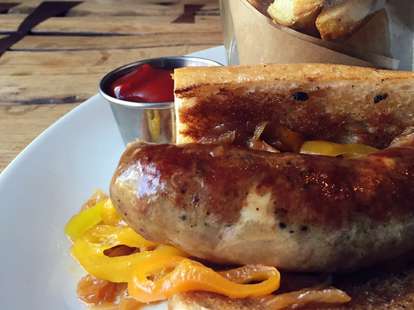 Courtesy of Richard Blankenship
"When you're tailgating, a sandwich or any handheld food is great. You don't want to worry about utensils, so hoagies are the perfect food. You also want something hearty that will soak up the pre-game beers. I love a dirty water dog, but a sausage hoagie is a bit more sophisticated and flavorful."
Sausage & Pepper Hoagies
Where:DallasWho:Richard Blankenship, CBD Provisions
Ingredients:
4 links of your favorite sausage -- smoked kielbasa works great!
4 hoagie buns
1ea green bell pepper
1ea red bell pepper
1ea yellow onion
½ cup mayo
3tbsp chipotle paste
1tbsp lime juice
½tsp smoked paprika
Directions:
Cut the sides off the bell peppers, then cut the onions into thin rings. Season them all with salt & pepper then grill them to get a good char on the outside. Remove from the grill, then allow to cool before dicing.
Once diced, add to a small pot and return to the grill to stew slowly. Add a bit of butter if you're into that sort of thing.
Combine the mayo, chipotle, lime, and smoked paprika to make a sauce for the hoagies.
Finally, grill the sausages and buns. Finish each sandwich with the stewed peppers, onions, and chipotle mayo.