Make Green Chili Chicken Wings for Your Broncos Super Bowl Party
Sure, you could toss wings in bottled Buffalo sauce and serve that to your Super Bowl guests, though it would be like wearing jeans to your own red-carpet event. This is the Super Bowl -- kick things up a notch with these spicy-as-hell wings! They're a nod to the Mile High City, AKA home to the Denver Broncos, AKA the cradle of green chili.
Just like the Broncos' defense, these wings won't let you down.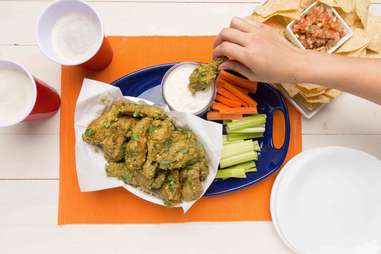 Green Chili Chicken Wings Recipe
Total Time: 1 hour
Yield: 6-8 servings
INGREDIENTS:
5 pounds chicken wings, split at the joints and tips removed
3 tablespoons kosher salt
Zest of 2 limes
2 teaspoons ground cumin
1 teaspoon ground coriander
5 fresh Anaheim green chiles
1 stick unsalted butter, melted
½ cup green jalapeño hot sauce
1 coarsely chopped jalapeño (optional)
1 teaspoon garlic powder
1 cup creamy blue cheese dip, for serving
Celery and carrot sticks, for serving
DIRECTIONS:
Preheat the oven to 500°F and position racks in the middle and upper third. Spread the wings out on 2 greased baking sheets in a single layer. Combine salt, lime zest, cumin, and coriander; sprinkle evenly on wings. Roast the chicken for 45 minutes, turning once, until browned and crispy.
Hold fresh chiles over an open flame on the stove until skins begins to blister. Place them in a bowl and cover with plastic wrap; allow to steam for 10 minutes. Remove stems, peel skin off, and purée in a blender until smooth. Add melted butter, hot sauce, jalapeño, and garlic powder; purée on high until smooth. Transfer sauce to a large mixing bowl.
Add chicken wings to the bowl with the chili sauce and toss to coat. Pour the wings and any extra sauce onto a large platter and serve right away with blue cheese and celery.