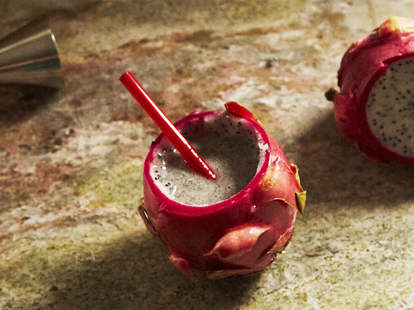 Matthew Kelly / Supercall
Don't be ashamed if you've never tasted dragon fruit. Not only does this Asian fruit look like an alien egg from outer space, but at about $5 a piece, the fruit can be a little intimidating to purchase. We assure you though, dragon fruits are well worth the price (and risking having an alien hatch in your kitchen). With a flavor similar to a kiwi, these light, refreshing fruits are extremely high in vitamin C (10 percent of your daily requirement), antioxidants, fatty acids, protein and carotene. While they are delectable on their own, we find their speckled flesh even better mixed up into a health-conscious cocktail. Best of all, if you scoop them out carefully enough, you can use the exotic, bright pink hull of the fruit as your cocktail glass.
INGREDIENTS
1.5 oz

Vodka

1

Dragon Fruit

0.25 Cup

raspberries

0.25 Cup

crushed ice

0.5 oz

coconut water

0.5 oz

lime juice

0.5 oz Agave Syrup
INSTRUCTIONS
Step one
Slice the top off a dragon fruit and set aside.
Step two
Using a spoon, carefully scoop out the flesh of the fruit and put it into a blender. Be extra careful not to damage the exterior of the fruit.
Step three
Add the vodka, raspberries, coconut water, lime, agave and crushed ice to the blender with the dragon fruit.
Step four
Blend until emulsified.
Step five
Pour the blended cocktail into the fruit and serve with a straw.
Contributed by Supercall