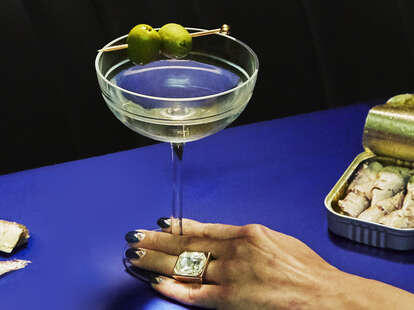 matthew kelly / supercall
You either love sardines, or you hate them. We fall into the former camp and can't get enough of the briny fish—even the oil gets put to use in our take on a Dirty Martini. We fat wash gin with the omega 3-packed sardine oil, stir it with dry vermouth and olive brine, and garnish the salty masterpiece with buttery, sardine-stuffed castelvetrano olives. It's wonderfully savory, soothingly silky and everything fans of the classic, olive-soaked cocktail could ever want.
La Sardina
INGREDIENTS
.75 oz Vermouth
.75 oz

Olive Brine

Sardine-stuffed castelvetrano olives, for garnish
INSTRUCTIONS
Step one
Add all ingredients save for the olives to a mixing glass with ice.
Step two
Stir for 30 seconds or until ice cold.
Step four
Garnish with a skewer of sardine-stuffed olives.
Contributed by Supercall