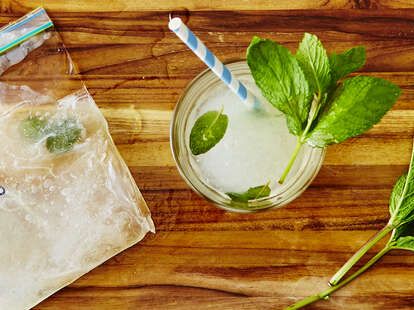 Matthew Kelly / Supercall
Mojitos can be a chore to make—just ask a bartender. But these frozen Mojitos made in sandwich baggies are a breeze—no muddling or blenders required. The easy-to-make mint syrup gives the drink its signature herbal zing, while a garnish of fresh mint puts it over the top. Use its cooling properties to counter ultra-spicy dishes or sip it by the pool (full-sized or kiddie) on a steamy afternoon.
No-Blender Frozen Mojito
INGREDIENTS
2 oz

white rum

2 oz

lime juice

1.5 oz

mint syrup

.5 oz

Water

Mint
INSTRUCTIONS
Step one
Mix all ingredients, save for the fresh mint, together in a mixing glass.
Step two
Carefully pour into a plastic bag.
Step three
Seal the plastic bag, removing as much air as possible.
Step four
Lay flat in a freezer until slushy, about 2-3 hours.
Step five
To serve, pour into a lowball glass and garnish with a sprig of fresh mint.
Contributed by Supercall