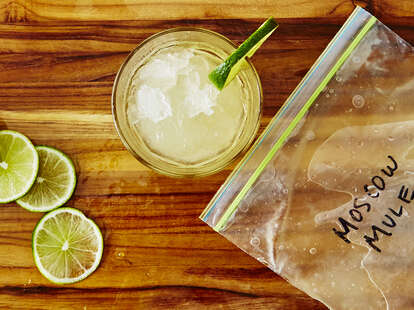 Matthew Kelly / Supercall
No copper mug here, just a plastic sandwich baggie. This easy, no-blender, frozen Moscow Mule is made with both ginger beer and ginger syrup, for an extra zippy hit of spice. Even if you don't consider yourself a member of the Moscow Mule cult, this frosty cocktail will hit the spot at any time of day—it makes a particularly great brunch cocktail when the a.m. heat is already unbearable.
No-Blender Frozen Moscow Mule
INSTRUCTIONS
Step one
Mix all ingredients, save for the lime wheel, together in a mixing glass.
Step two
Carefully pour into a plastic bag.
Step three
Seal the plastic bag, removing as much air as possible.
Step four
Lay flat in a freezer until slushy, about 2-3 hours.
Step five
To serve, pour into a lowball glass (or copper mug, if you have one) and garnish with a lime wheel.
Contributed by Supercall