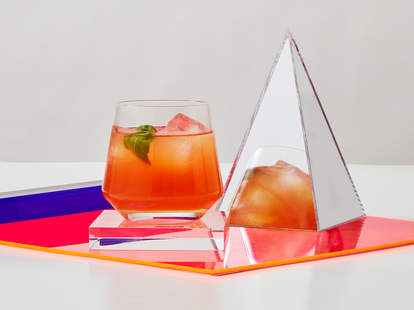 They may be traditional rivals in many areas (sports, culture, politics), but France and England get along just fine in this simple, delicious cocktail. Tanqueray No. TEN, from London, is made with fresh whole citrus, including grapefruits, limes, and oranges, so it naturally pairs with the grapefruit juice, while the quinquina, from France, brings a light sweetness and a complex herbal flavor to the party. Diplomacy: it's a beautiful thing!
Please drink responsibly.
TANQUERAY NO. TEN Gin. 100% Grain Neutral Spirits. 47.3% Alc/Vol. Imported by Charles Tanqueray & Co., Norwalk, CT.
INGREDIENTS
1.25 oz

Tanqueray No. TEN

.5 oz

French Quinquina Aperitif

Basil

2 oz

Fresh Grapefruit Juice
INSTRUCTIONS
Step one
Combine all ingredients in a shaker with ice.
Step two
Shake. Strain over rocks in an old-fashioned glass.
Step three
Garnish with expressed basil leaf.
Contributed by Zach Lynch