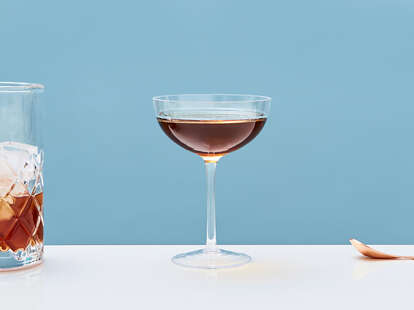 Marisa Chafetz / Supercall
Named after the Italian slang word for "the boys," this riff on a Manhattan uses Fernet Branca—a divisively bitter Italian amaro—in lieu of Angostura bitters. While its origins are murky at best, the Fanciulli is a bonafide bitter classic. When building the drink, make sure to use an overproof rye whiskey like Rittenhouse or a bolder bourbon like Knob Creek, which can match the intensity of fernet.
Fanciulli
INGREDIENTS
2 oz

Whiskey

0.75 oz

Vermouth

0.25 oz

Fernet Branca
INSTRUCTIONS
Step one
Add all ingredients to a mixing glass.
Step two
Add cubed ice and stir.
Contributed by Supercall