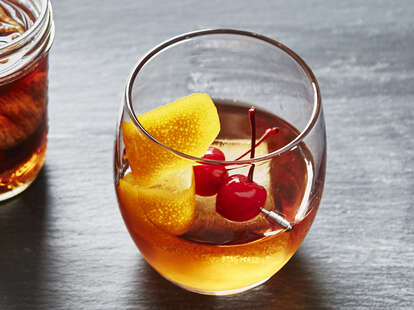 While jam is an easy way to incorporate figs into cocktails, infusing a spirit with the rich and mellow fruit is also a great option—plus, you don't have to sacrifice any precious ABV. In this fruity take on an Old Fashioned, Manny Nieves, bartender at Silver Trumpet Restaurant and Bar, upgrades the cocktail's standard whiskey base to fig-infused bourbon. "Figs and bourbon have very complementary profiles," he says. "Both have rich, sweet and warm notes that play off each other nicely, so it's a no brainer to infuse the two." Made with maple simple syrup in place of the usual sugar, along with black walnut bitters, it's an ultra-cozy take on a timeless classic.
Fig Fashioned
INSTRUCTIONS
Step one
Combine bourbon, maple simple syrup and walnut bitters in a mixing glass, and fill with ice.
Step two
Stir 15 to 20 times, and strain into a rocks glass filled with a fresh, large ice cube.
Step three
Garnish with an orange twist and two Morello cherries.
Contributed by Zach Albert