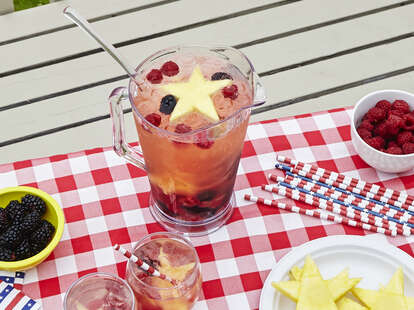 Red, white and blue trifles are so 1776. Celebrate the Fourth of July like a real patriot with this Star Spangled Sangria, made with raspberries, blackberries and pineapple slices cut into stars. This sweet and tart white wine Sangria gets its edge from dark pineapple rum and berry liqueur instead of the classic brandy, while the pineapple stars keep it fun and festive. Serve it at your Independence Day barbecue alongside cheeseburgers, macaroni salad and … fine, some of that delicious berry trifle.
Star Spangled Sangria
INGREDIENTS
1 bottle

pinot grigio

1 oz

Chambord

1.5 oz

Pineapple Rum

.75 oz

Lemon Juice

2 oz Simple Syrup
1 Cup

raspberries

1 Cup

Blackberries

1

pineapple
INSTRUCTIONS
Step one
Break down pineapple into round slices, then cut the slices into stars using a cookie cutter or a stencil and knife with precision. Alternatively, cut the pineapple into chunks.
Step two
Add wine, rum, Chambord, lemon juice and simple syrup to pitcher and stir.
Step three
Add berries and pineapple stars and lightly stir.
Step four
Chill in the fridge for at least 2 hours.
Step five
Top with club soda, lightly stir and serve with ladle for fruit.
Contributed by Supercall