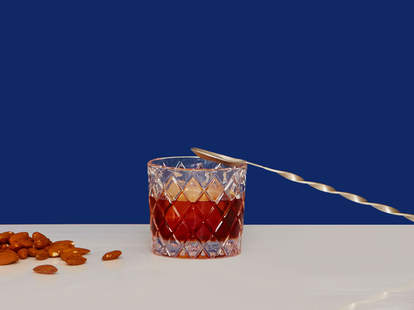 Like the Godfather from which it's derived, the French Connection takes its name from filmdom. This cocktail honors the 1971 thriller The French Connection, which starred Gene Hackman as detective Popeye Doyle and Roy Scheider as his partner, Buddy Russo. In place of the Godfather's usual whiskey, this cocktail swaps in French Cognac, which enhances the nutty sweetness of the amaretto. Don't let the friendly flavors fool you, though—with no non-alcoholic mixers, this cocktail's four ounces of straight booze pack a punch tougher than detective Popeye.
INSTRUCTIONS
Step one
Add both ingredients to a lowball glass with a large ice cube.
Step two
Stir briefly and serve.
Contributed by Supercall