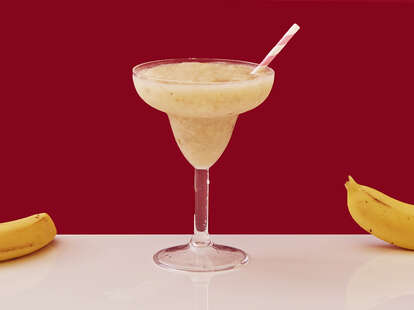 Matthew Kelly / Supercall
Don't get us wrong, we love a traditional Daiquiri made with white rum, fresh lime juice and simple syrup, but sometimes it's okay to stretch the definition of a cocktail and add ice and fruit. This classic blended Daiquiri is so refreshingly delicious and banana-riffic that one sip will make you go bananas (B-A-N-A-N-A-S). Even cocktail purists won't be able to resist its pure, bright flavors. Made with fresh, very ripe bananas, instead of an artificial banana-flavoured liqueur, and both light and dark rums, it has a rich depth, loads of creamy banana flavor and a wallop of boozy rum goodness. Lime juice adds zing while a touch of simple syrup rounds everything out.
The origins of this fruity frozen drink are hazy, but a popular theory has it that British sea captain George Soule, who was on a quest to find the perfect island drink, first whipped one up at the Mountain Top bar in St. Thomas in 1953. He blended Cruzan rum with sugar cane extract, bananas, fresh lime juice and banana liqueur and came up with what he dubbed to be the ultimate Caribbean cocktail. While a fire ravaged the bar a few years ago, it is back up and running today, and they are still slinging their famous Banana Daiquiris. (The bar claims to serve more than 3 million every year.)
Perfect for balmy summer days and poolside drinking, this recipe makes enough for two—or one person who doesn't want to get off the beach towel for a refill.
Banana Daiquiri
INGREDIENTS
2 oz

white rum

2 oz

dark rum

1.5 oz

Lime Juice

1 oz Simple Syrup
4 whole

ripe banana

1 Cup

crushed ice
INSTRUCTIONS
Step one
Add all ingredients to a blender.
Step two
Blend on medium to high until smooth.
Step three
Divide between two glasses.
Contributed by Supercall