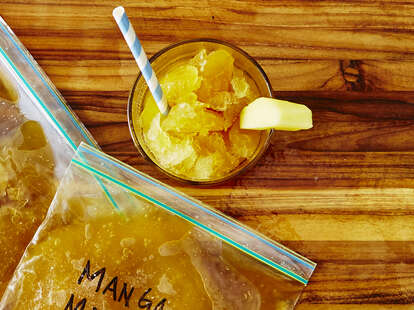 Matthew Kelly / Supercall
Sweet mango, grassy blanco tequila, honeyed agave and tart lime juice come together in this take on a fruity frozen Margarita. Made in a sandwich baggie and frozen until it reaches the texture of wet snow, it's the perfect summer cookout drink. Pour it into lowball glasses rimmed with salt or drink it with a straw straight from the baggie—Capri Sun style.
No-Blender Frozen Mango Margarita
INGREDIENTS
2 oz

Tequila

2 oz

Mango Juice

1 oz

lime juice

1 oz agave syrup
.5 oz

Water

Salt
INSTRUCTIONS
Step one
Mix all ingredients together, save for the salt, in a mixing glass.
Step two
Carefully pour into a plastic bag.
Step three
Seal the plastic bag, removing as much air as possible.
Step four
Lay flat in a freezer until slushy, about 2-3 hours.
Step five
To serve, pour into a glass (rimmed with salt, if you wish) and give it a brief stir to loosen it up.
Contributed by Supercall