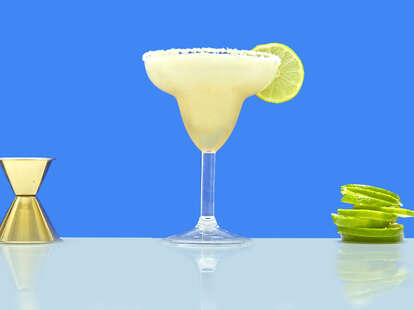 You probably associate Frozen Margaritas with happy hour at chain restaurants, neon green goblets, and very, very painful hangovers. This Frozen Margarita is none of those things; it's perfectly balanced, natural in color, and will only give you a bad hangover if you go really overboard (which, granted, is easy to do because it's so dang delicious). The key to an excellent Frozen Marg is your sour mix, or rather, throwing your sour mix out of a very high window into a dumpster. Store-bought sour mix, or "Margarita mix" as it's often labeled, will yield a sugar bomb of artificial flavors and a radioactive color that only the Hulk would feel comfortable drinking. Instead, use simple, high-quality ingredients: blanco tequila, fresh lime juice and orange liqueur. While our traditional Margarita on the rocks calls for agave syrup instead of orange liqueur, the Frozen Margarita is better suited for a splash of Cointreau to add fruitiness and extra booze because crushed ice adds more water to the mix. It'll all get blended up into slushy, refreshing goodness, which should still get poured into one of those garish goblets you'd find at Chili's—because when it comes to Frozen Margaritas, the gargantuan size is all part of the fun.
Frozen Margarita
INGREDIENTS
2 oz

tequila

1 oz

lime juice

.75 oz

Cointreau

.5 Cup

crushed ice

salt

lime wheel
INSTRUCTIONS
Step one
Rim a large Margarita goblet with lime juice and salt.
Step two
Combine all other ingredients in a blender. Blend until smooth and pour into the glass.
Step three
Garnish with a lime wheel.
Contributed by Supercall
Mix It Up!
For an even more party-ready Frozen Margarita, turn it into a Mexican Bulldog by flipping in a bottle of Corona or any other Mexican lager (make sure there is enough room in the glass). The combo of beer and Margarita works surprisingly well and definitely hits the spot during a hot summer day. You can even try different variations of the Bulldog, like a cinnamon and hard cider Bulldog or a blackberry, mezcal and porter Bulldog.