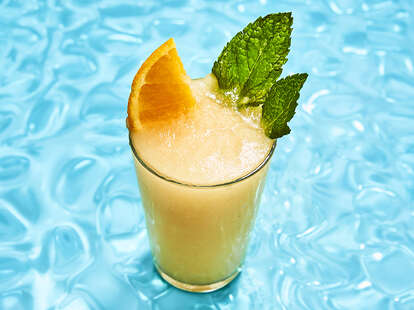 Marisa Chafetz / Supercall
At first glance, the ingredients in this exotic frozen cocktail may seem strange. Apple cider? Aperol? And mezcal? But when they come together, you get a perfectly balanced, crowd-pleasing cocktail you can serve all summer and into the fall. Created by Adam DelGiudice from Ron Barceló, the refreshing drink is as easy to make as it is to gulp down. "The smoke and earthiness of the mezcal counterbalances the richness of the rum," DelGiudice says. "I wanted two spirits that were opposites to complement each other by finding ingredients that brought them together to make something unique." Unique it is, with ginger and lemon juice adding some tang, while Aperol lends a bittersweet note to the frozen libation. Cinnamon syrup and apple cider round out the drink and give it a flavor that wouldn't be out of place during football season's early tailgates.
Scorched Earth
INGREDIENTS
1-inch Slice

ginger

1.5 oz

rum

.5 oz

mezcal

.75 oz

lemon juice

.5 oz

cinnamon syrup

.25 oz

Aperol

1 oz

Apple Cider

1 Cup

ice

orange slice

mint
INSTRUCTIONS
Step one
Add all ingredients, save for the garnishes, to a blender. Blend to desired consistency.
Contributed by Adam DelGiudice