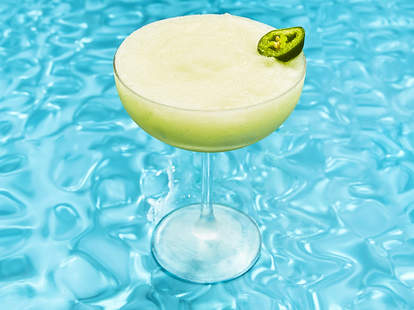 Marisa Chafetz / Supercall
In our humble opinion, the Last Word is one of the most underrated classic cocktails of all time. And it turns out that Eric Trousdale, the beverage director of Arbella in Chicago, feels the same way. But when he realized that he didn't quite get along with gin, he swapped the juniper spirit for something smoky—mezcal. "I love gin, but it is, however, the one spirit that doesn't love me back," Trousdale says. "Makes me a bit weird after a few. A bartender friend turned me on to Mezcal Last Words a few years ago, and I have since then played with replacing gin with mezcal in every gin classic." His frozen take on the Mezcal Last Word adds muddled jalapeños for spice, making this a seriously sippable new summer classic. This recipe serves six, so whip up a batch for your next taco night or during a summer bash.
INGREDIENTS
jalapeño slices

6 oz

mezcal

6 oz

Green Chartreuse

6 oz

lime juice

6 oz

Maraschino Liqueur

3.5 cups

ice
INSTRUCTIONS
Step one
Muddle jalapeño slices in the bottom of a shaker tin. Strain the liquid into a blender, and discard the solids.
Step two
Add the rest of the ingredients to the blender. Blend until combined.
Step three
Pour into coupe glasses and garnish with fresh jalapeño slices.
Contributed by Eric Trousdale