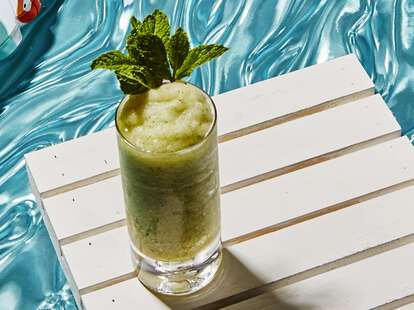 The Mojito is one of our favorite summertime sippers—no matter how much bartenders may hate making it. And when the temperature starts to rise, we can be found nursing a few rounds of this frozen version from nautical, tiki-themed New York bar The Rusty Knot. Not only is it the perfect amount of refreshing, but it somehow manages to improve upon the classic version. The secret? According to general manager Victor Everitt, the bar likes to give the drink a little extra zing by adding a few dashes of Peychaud's and Angostura bitters to its sour mix.
Rusty Knot
INSTRUCTIONS
Step one
Add all ingredients to a blender.
Step two
Blend until smooth and pour into a highball glass.
Contributed by The Rusty Knot