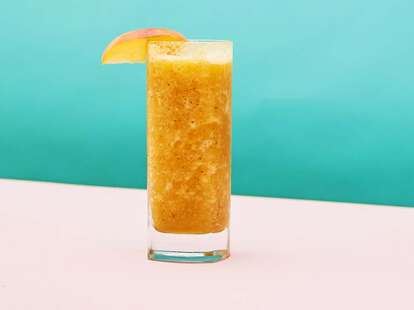 Marisa Chafetz / Supercall
Marisa Chafetz / Supercall
There aren't many frozen whiskey drinks out there. Typically, these slushie-style cocktails are made with a base of rum or vodka or perhaps tequila. But why leave whiskey out of the summertime fun? The mellow, vanilla-twinged spirit is just as good paired with bright fruits and ice as any other. And this drink proves it.
An ode to summers in the South, this frosty cocktail pairs whiskey with fresh peaches and honey—and nothing else, aside from a couple cups of ice. The flavors come together like a well-choreographed hoedown. It's refreshing, bright and sweet, with that boozy twang of whiskey in the background.
Note: It's up to you whether or not you want the skin on your peaches or off. If you keep the skins on, you'll get more of a speckled cocktail, which we think looks nice.
Peach Whiskey Refresher