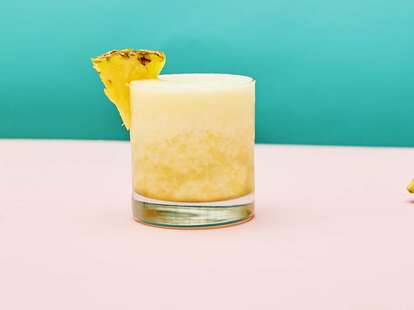 Marisa Chafetz / Supercall
Marisa Chafetz / Supercall
This simplified take on a frozen Pineapple Margarita leaves out the lime juice—but you won't miss it. This frosty drink calls for just three ingredients (aside from the ice): blanco tequila (pick a nice, citrusy, grassy bottling), fresh pineapple chunks and agave nectar. Blend everything together and you'll be rewarded with a bright, zesty, tropical cocktail that is far more complex than you might expect from such a basic drink.
If you're working completely from scratch with a whole pineapple, you might feel a little daunted. Don't worry; extracting the delicious fruit from the spiky beast is easy. Just follow this pineapple carving guide. If you're feeling extra indulgent, you can also hollow out the pineapple to use it as a desert island-style goblet. Fill it to the brim with this frozen tequila drink, lay back in your deck chair and know that you are truly winning life right now.
Frozen Pineapple Tequila
INGREDIENTS
1 Cup

Blanco Tequila

2 cups

Pineapple

.5 Cup

Agave Nectar

2 cups

Ice

Pineapple wedges
INSTRUCTIONS
Step two
Pour into a glass and garnish with a pineapple wedge.
Contributed by Supercall