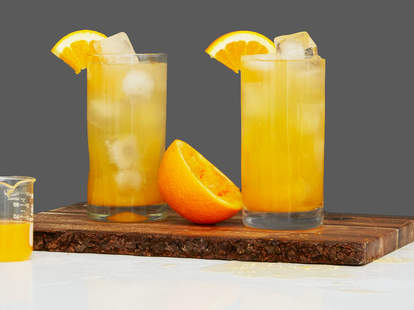 Ray Foley, founder of Bartender Magazine, created the Fuzzy Navel by accident. Legend has it, Foley was prepping oranges for garnish, when a patron at the bar noted how he could smell the "fuzz" of the peach schnapps he was drinking (it was the 1980s) through the aroma of Foley's freshly cut oranges—a seriously poetic barfly musing if we ever heard one. Foley supposedly looked down at the oranges he was cutting and the first thing that caught his eye was a sticker that read "Navel Oranges." Right then and there he combined equal parts fresh OJ and peach schnapps and, tada!, the Fuzzy Navel was born.
INGREDIENTS
3 oz

Peach Schnapps

3 oz

Orange Juice

Orange Wheel
INSTRUCTIONS
Step one
Pour the Schnapps into a highball glass add ice and top with fresh orange juice.
Step two
Stir, and garnish with an orange wheel.
Contributed by Supercall