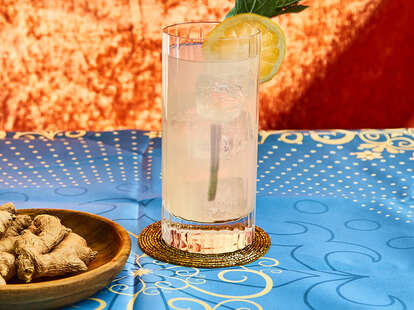 Marisa Chafetz / Supercall
Marisa Chafetz / Supercall
You might not think of pairing spicy Thai food with cocktails, but you definitely should. Sway in Austin, Texas wants patrons to think beyond wine and beer when it comes to their menu—but not just any mixed drink will do. "Developing each cocktail was an exercise in flavor balance and celebrating the distinct flavors of Thailand," says Mandi Nelson, beverage director of New Waterloo hospitality group. "They can hold up to the heat of Sway's cuisine without getting lost or being overpowering." Nelson created a housemade galangal simple syrup for this take on a Gin & Tonic—which takes some time and effort, but is totally worth the tasty, exotic outcome. After mastering this drink, use the syrup to spice up other classic libations like a Tom Collins or even a Moscow Mule.
Same Same Tonic
INSTRUCTIONS
Step one
Add the gin and galangal syrup to a mixing tin with ice.
Step two
Shake and strain into a Collins glass with fresh ice.
Step three
Top with tonic and stir.
Step four
Garnish with fresh mint and a lemon wheel.
Contributed by Mandi Nelson