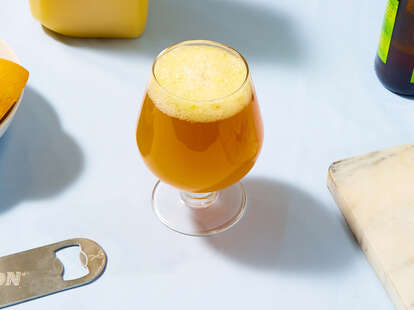 Marisa Chavetz / Supercall
This take on a Mimosa, designed by Matthew Tocco for Pinewood Social in Nashville, Tennessee, was inspired by one of his favorite childhood snacks. "My mom used to make me an orange juice and banana 'shake' on Saturdays while I watched cartoons," says Tocco. "I wanted to make something like that for brunch but with booze." He looked to Pierre Ferrand Dry Curaçao and one very unorthodox ingredient: Yazoo Hefeweizen beer, which, he says, tastes a lot like bananas. The recipe also uses orange and lemon juices, as well as amaro, to round out the flavor and give Tocco's childhood snack an air of sophistication.
Gentleman-mosa
INGREDIENTS
1.5 oz

Dry Curaçao

.5 oz

Amaro CioCiaro

2 oz

orange juice

.5 oz

lemon juice

8 oz

wheat beer
INSTRUCTIONS
Step one
Add curaçao, amaro and citrus juice to a beer goblet.
Step two
Top with chilled beer and serve.
Contributed by Matthew Tocco