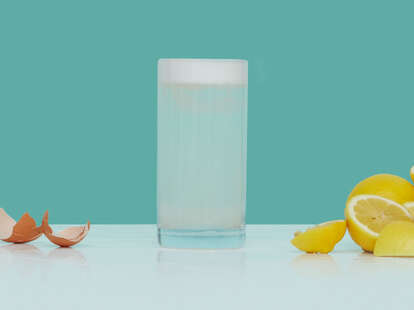 Let's get one thing straight: A Fizz isn't just a Sour topped off with carbonated water—it includes egg whites. The Gin Fizz is a delightful example of this classic cocktail made with fresh lemon juice, frothy egg white and London Dry gin. Getting a perfectly foamy head requires some hard shaking so great ready for a workout.
Gin Fizz
INGREDIENTS
2 oz

Gin

.75 oz

Lemon Juice

.75 oz simple syrup
.75 oz

Egg Whites

Club Soda

Lemon wedge
INSTRUCTIONS
Step one
Add all ingredients except for the lemon wedge and soda into a shaker tin.
Step three
Add ice to the tin and shake for an additional minute.
Step four
Strain into a highball glass and add fresh ice.
Step five
Top with soda and stir gently to incorporate the ingredients.
Step six
Garnish with a lemon wedge and serve.
Contributed by Supercall