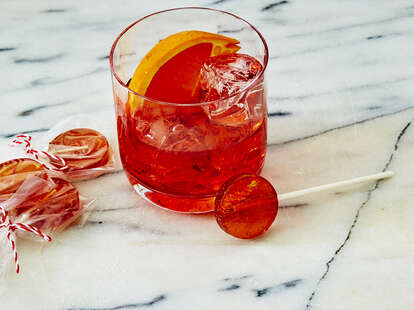 Negronis are great over ice, as a Jello Shot or even in marmalade, so it makes sense that this delightful aperitif is equally delightful in lollipop form. This bittersweet, handheld candy goes a little lighter on the Campari and sweet vermouth than the classic cocktail, allowing the herbaceous notes of gin to shine through the sweetness. While the ruby red sipper is typically reserved for pre-dinner drinking, this version makes a great dessert.
Recipe make 1 dozen lollipops.
Negroni Lollipop
INGREDIENTS
2 tbsp

gin

1 tbsp

Campari

1 tbsp

sweet vermouth

3 tbsp

cold water

.75 Cup

sugar

3 tbsp

corn syrup

Pinch

kosher salt
INSTRUCTIONS
Step one
Mix together all ingredients, except 1 teaspoon of the gin, in a medium saucepan until the sugar is completely saturated.
Step two
Bring the mixture to a boil over medium heat, stirring gently with a silicone spatula until sugar is dissolved. Then continue to boil until the mix hits 300 degrees Fahrenheit without stirring.
Step three
Remove the mixture from the heat and quickly mix in the remaining teaspoon of liquor.
Step four
Quickly spoon or pour the syrup into either lollipop molds or dollop onto a silicone mat.
Step five
Place a lollipop stick in the center of each candy and twirl it so that it's fully covered in syrup.
Step six
Let the lollipops cool completely, then peel from the molds.
Step seven
Store in an airtight container, or cover with candy wrappers and tie with string.
Contributed by Supercall