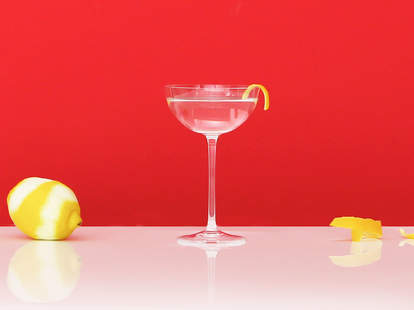 This is the real Martini. A blend of gin, dry vermouth and orange bitters, this nearly forgotten original iteration of the ubiquitous symbol of elegance is now reclaiming its rightful place as one of the most classic of all classic cocktails. While it could be a bastardized version of the Martinez, which came to life in San Fransisco, some say New York's Knickerbocker Hotel created it. Whatever its origins, the original Martini is a cocktail every dedicated drinksmith should taste at least once. Though the official recipe doesn't call for a garnish, go ahead and add a lemon twist if you wish.
INGREDIENTS
2 oz

gin

1 oz dry vermouth
2 to 3 dashes

orange bitters

Lemon twist
INSTRUCTIONS
Step one
Add all ingredients to a mixing glass and fill with ice.
Step two
Stir until chilled thoroughly, and strain into a couple glass.
Step three
Garnish with a lemon twist.
Contributed by Supercall