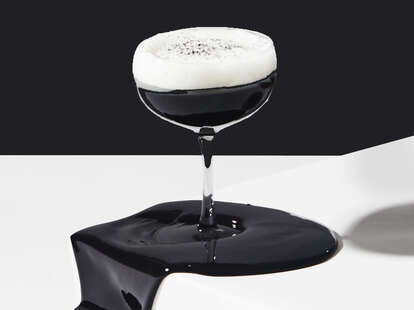 Adam Nystrom, lead bartender at E.P.&L.P. in West Hollywood, California, infused a classic Gin Sour with Southeast Asian flavors like coconut and lychee to make this beautiful beverage. Delicately sweet and floral lychee liqueur mixes with dark Amaro Montenegro and botanical-heavygin to yield a complex, bittersweet flavor. The drink gets its signature jet black color from coconut charcoal, made from coconut husks that have been charred, cooled and ground into a powder. A frothy egg white head and a dusting of more coconut charcoal creates a striking ombré effect.
Black Thai Optional
INGREDIENTS
1.5 oz

Gin

.5 oz

Lychee Liqueur

.25 oz

Amaro

.25 oz Rich Simple Syrup
.75 oz

lemon juice

.5 oz

egg whites

.25 tsp

coconut charcoal
INSTRUCTIONS
Step one
Pour all of the ingredients into a shaker tin without ice, and dry shake.
Step two
Add ice to the shaker and give it a hard shake.
Step three
Double strain into a chilled coupe glass.
Step four
Dust with coconut charcoal for garnish.
Contributed by Adam Nystrom