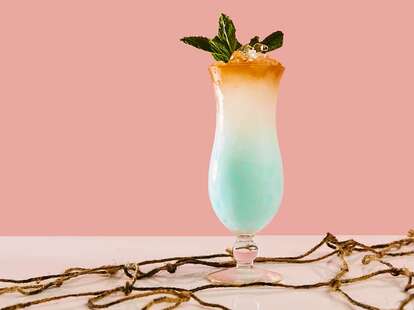 Marisa Chafetz / Supercall
Marisa Chafetz / Supercall
Inspired by the Pinky Gonzales cocktail, Trader Vic's tropical riff on the Margarita, this variation is even more delicious—and blue—than the original. Created by Brian Maxwell, extreme tiki enthusiast and head bartender at Jeepney in New York City, the Gonzo Gonzalez was designed to please his "tequila-loving guests." Made with a split base of blanco tequila and mezcal, homemade falernum, and cashew orgeat, the drink is subtly smoky and nutty with lots of bright tropical flavors. While a poolside lounge chair would be an ideal locale to drink this icy blue cocktail, it is also an exceptional accompaniment to fatty, salty, pork-filled dishes, just like they do it at Jeepney.
Gonzo Gonzalez
INGREDIENTS
1 oz

Blanco Tequila

1 oz

Mezcal

0.5 oz

Blue Curaçao

1 oz

Food-grade Citric Acid

0.75 oz Cashew Orgeat
0.5 oz Falernum
2 dashes

Regan's Orange Bitters

3 dashes

Aztec Chocolate Bitters
INSTRUCTIONS
Step one
Add all ingredients, sans bitters and mint, to a shaker tin. Add cubed ice and shake.
Step three
Garnish with bitters and a bouquet of fresh mint.
Contributed by Brian Maxwell
Mix It Up!
If you're looking for food-grade citric acid it can be found online
here
. We find that it is best to dilute it with equal parts warm water to make it easier to apply to cocktails. It is also best to store it in an
eyedropper bottle
so that it can be used almost like a bitters.