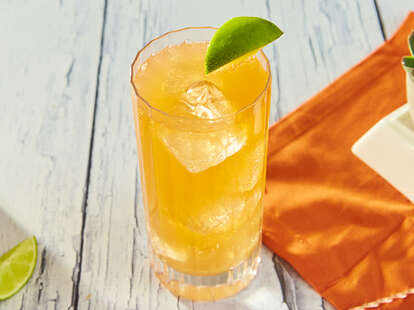 As the newest addition to Austin Eastciders' craft cider lineup, Ruby Red Grapefruit is light and refreshing with a slightly tart flavor that's perfect for oppressively hot summer days. In addition to their original cider base, which is made with European cider apples, they use ruby red grapefruit juice from the Texas Rio Grande Valley to make the crisp libation. Turns out, its tangy citrus flavor plays really well in long, refreshing cocktails. "The bright and crisp grapefruit flavor and mild sweetness of Austin Eastciders Ruby Red Grapefruit makes it perfect for making tall, summery cocktails like this Paloma," says Jason Stevens, bartender at Boiler Nine in Austin, Texas. Grassy tequila, bittersweet Aperol and tart lime juice join the cider in this lightly effervescent drink, which strikes a perfect flavor balance. When garnished with a bright lime wedge, it's one of the most 'Grammable cocktails of the season.
The Eastciders Paloma
INGREDIENTS
3 oz

Ruby Red Grapefruit Cider

1.5 oz

tequila

.5 oz

Aperol

.25 oz

lime juice

1 tsp simple syrup

lime wedge
INSTRUCTIONS
Step one
Fill a tall glass with crushed ice.
Step two
Add tequila, Aperol, lime juice and simple syrup to the glass.
Step three
Top with the cider and stir.
Step four
Garnish with a lime wedge.
Contributed by Jason Stevens