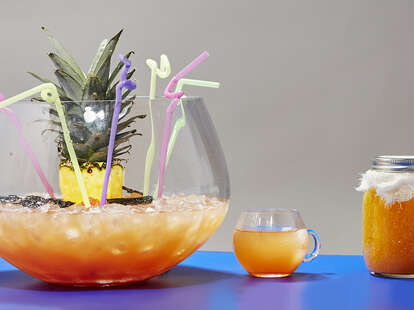 The Lusca was a giant, octopus-like sea monster of Caribbean legend, which prowled the tropical waters, sinking the good ships of colonial rum merchants. Though it surely caused some rum-based tragedies back then, it went on to inspire a modern day rum revelation. This punch from Rob McShea of Miss B's Coconut Club in San Diego, is a wealth of three different rums, amped up by nutty nocello liqueur, tropical fruits, grapefruit beer and guava-mango kombucha. McShea sees the kombucha as a natural extension of the historic tradition of using teas to fill out punches, adding that, "The kombucha adds a natural but tart fruit flavor and an effervescence through natural carbonation, which helps layer flavors without saturating it with sweetness."
At the bar, McShea serves the bubbly punch in an octopus-shaped punch bowl, enshrouded in a dry ice mist. But made at home, it's equally delicious presented simply in a basic bowl or pitcher.
The Lusca
INGREDIENTS
4 cups

Kombucha

2 cups

Grapefruit Beer

3 oz

Mixed Rums

3 oz

Plantation OFTD Rum

3 oz

Dark Rum

1.5 oz

Nocello

1.5 oz

Pineapple Juice

1.5 oz

Papaya Purée

1.5 oz

Honey

8 to 10 dashes

Walnut Bitters

Pineapple Top and Kelp, for garnish
INSTRUCTIONS
Step one
Add all ingredients to a punch bowl with ice and stir to mix.
Step two
Garnish with pineapple top and kelp.
Step three
Ladle into individual cups, or add long straws and sip en masse.
Contributed by