Hair of the Dog Michelada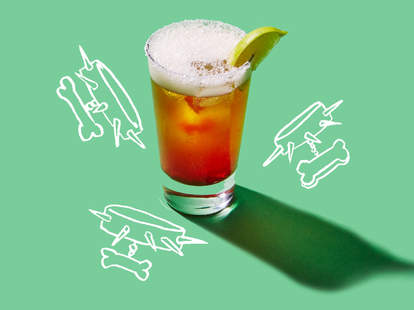 A Michelada once saved Allison Kave, the co-founder of NYC's Butter & Scotch, from the worst hangover of her life. "It was Mother's Day 2012," she says. "Despite the brain-shattering headache and constant nausea racking my body, there was no way I was going to flake on my beloved mom. I looked at the brunch menu at Empellón Cocina (a fantastic Mexican restaurant here in NYC), desperately in need of a bit of hair of the dog that attacked me, and thought a Michelada would be the gentlest option. It saved the day and restored me to being a doting daughter."
Kave's take on a Michelada packs a double-umami punch with both Worcestershire and soy sauce, which balance out the fiery kick of the hot sauce and the bright, bracing acidity of the fresh lime juice. Sip it on ice and keep adding beer; by the time you finish, you'll be able to remove your sunglasses.
INGREDIENTS
0.5 oz Michelada Mix
1 pint

Lager

0.75 oz

Lime

Kosher Salt

Lime Wedge
INSTRUCTIONS
Step one
Moisten the rim of a pint glass with a lime wedge, then roll it in salt.
Step two
Fill the glass with ice and add the Michelada mix and lime juice. Top with the beer, and garnish with the lime wedge.
Step three
Serve with a straw and the remaining beer on the side for frequent top-offs.
Contributed by Allison Kave