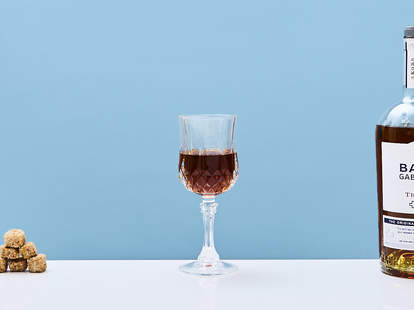 Albert Stevens Crockett has perhaps the best explanation for the Harvard's popularity. In his 1931 Old Waldorf Bar Days, he writes, "Named after the school for young men…in a suburb of Boston. Alumni who drunk it sometimes lost the 'Harvard accent.'" While we can't promise this Manhattan variation will make you sound more (or less) classically educated, we can guarantee the drink will go down easy. Made with brandy—which gives the drink a fruity, apple-like flavor—along with rich demerara syrup, vermouth and bitters, the Harvard has a warming, autumnal feel. While the original recipe in George J. Kappeler's Modern American Drinks calls for a topper of soda, we prefer the neater, tighter flavors without the fizz.
INGREDIENTS
1.5 oz

brandy

1 oz

sweet vermouth

3 dashes

Angostura

1 barspoon demerara syrup
INSTRUCTIONS
Step one
Combine all ingredients in a mixing glass with ice, and stir.
Step two
Strain into a Nick and Nora glass.
Contributed by Supercall