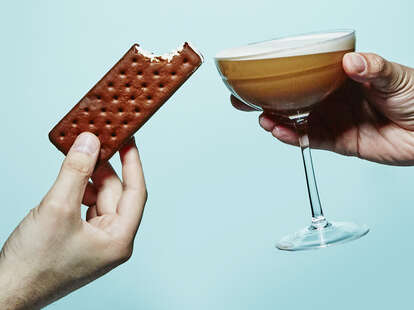 Matthew Kelly / Supercall
You can't top the cool vanilla and chocolate harmony of an ice cream sandwich—but you can turn it into a cocktail. This liquid take on the summertime staple blends chocolate-flavored vodka with dark rum for a stiff-but-sweet backbone, while frothy egg whites and vanilla extract lend the drink a creaminess akin to melted ice cream. Take one sip of this cocktail and you'll recall ice cream sandwiches on a hot summer day, dribbling their sticky vanilla sweetness down your hand.
The Ice Cream Sandwich
INGREDIENTS
1.5 oz

Dark Rum

1 oz

Chocolate Vodka

0.5 oz

creme de cacao

0.25 oz

kahlua

0.75 oz

Egg Whites

1 dash

Vanilla Extract
INSTRUCTIONS
Step one
Add all ingredients to a shaker tin and dry shake for at least one minute to emulsify the egg whites.
Step two
Crack open the shaker tin and add cubed ice. Shake for one minute more.
Step three
Using a Hawthorne strainer, strain the cocktail into a coupe glass.
Contributed by Supercall