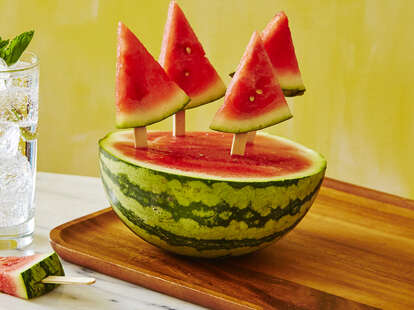 In the midst of summer, the blazing heat and suffocating humidity demands an icy popsicle—but we're not talking about the syrupy sweet kind that drips down your arm. We're talking about spiked watermelon Mojito pops. Made simply by cutting up watermelon slices and soaking them in white rum, lime juice and mint syrup, these Mojito pops are fruity, refreshing and downright adorable. Think of them as a more delicious, upscale and photogenic version of the alcohol infused watermelon you used to make in college by simply dumping a bottle of vodka into a the fruit.
The pops are a perfect treat to pull out during a summer party if you don't feel like going to the trouble of making Jello Shots or a large format punch. Not only that, but they're also easily adaptable. If you don't have fresh mint on hand to make mint syrup, just use standard simple syrup for a Daiquiri flavored pop, or swap out rum for tequila to make Margarita pops. The boozy opportunities are endless. Of course, if you are popsicle purist, you might say these don't qualify as real "pops." You can make an actual alcoholic popsicle, but don't say we didn't warn you about the drips.
Frozen Watermelon Mojito Pops
INGREDIENTS
1

watermelon

8 oz

white rum

5 oz

mint syrup

4 oz

lime juice

10-12

popsicle sticks
INSTRUCTIONS
Step one
Slice a small watermelon into triangular wedges, leaving the rind. Should yield 10-12 slices.
Step two
Slice a popsicle stick-sized slit into the bottom of each rind. Test to see if the slit is deep enough by slipping a popsicle stick into the wedge. The stick should support the weight of the wedge. Do not leave the sticks in, though.
Step three
Pour mint syrup, lime juice and white rum into a bowl and whisk to combine, then pour into a baking pan.
Step four
Place watermelon slices in the baking pan and submerge into the mix.
Step five
Soak for 1-3 hours (the longer, the more potent the flavor).
Step six
Remove the slices from the liquid and slide a popsicle stick into each wedge.
Step seven
Place the wedges on a cookie sheet, cover with cellophane, and freeze for at least 3 hours, ideally overnight.
Step eight
Serve immediately, and feel instantly better.
Contributed by Supercall
Mix It Up!
If you tire of snacking on the rum-soaked slices, never fear. The watermelon is one of the most versatile, cocktail friendly ingredients you can find during the summer. It's easy to juice—just blend a bunch of watermelon cubes in the blender—but it's equally easy to muddle. Try both those techniques in a Swizzle or a Mojito.