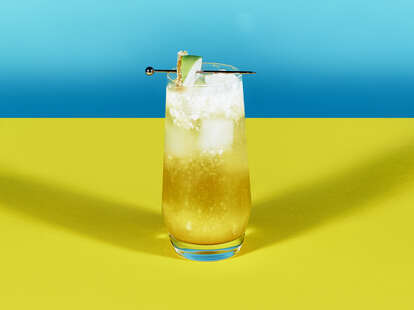 The New York City-based Queen Bee Classic competition challenges female bartenders to create cocktails incorporating honey, Queens Courage Old Tom Gin and other local New York State ingredients. This beguiling, bittersweet cocktail by Laura Gardner of Staten Island's Hop Shoppe took home the gold this year. The drink combines rich, lightly sweet gin with a homemade hop-honey syrup, fresh New York apples, spicy ginger and dry, sparkling cider.
While hops might seem like an odd cocktail ingredient, their bitterness works beautifully with gin, the same way gin mixes with Campari or tonic water. Though you might associate gin with springtime, this drink makes an argument for its use throughout harvest time. "Drinkers tend to gravitate towards whiskey and other dark spirits in the fall and winter," Gardner says. "But gin is great all year round." We couldn't agree more. Perfect as an aperitif or even digestif (thanks to the ginger), this drink is a brisk, fall day of apple picking, shaken and strained into a glass.
Hoppy Honey
INGREDIENTS
2

ginger

3 slices

apple

1.5 oz

Old Tom Gin

.75 oz Hop-Honey Syrup
.75 oz

lemon juice

1-2 drops

Hop Bitters

3-4 oz

hard cider

1 piece

candied ginger

1

hop flower
INSTRUCTIONS
Step one
Muddle fresh ginger and two apple slices in a shaker tin.
Step two
Add the gin, hop-honey syrup, lemon juice and hop bitters.
Step three
Add ice to the shaker and shake vigorously.
Step four
Using a Hawthorne strainer, strain into a highball glass over fresh ice.
Step five
Top with cider. Garnish with candied ginger, apple slice, and a hop leaf (if using) on a skewer.
Contributed by Laura Gardner