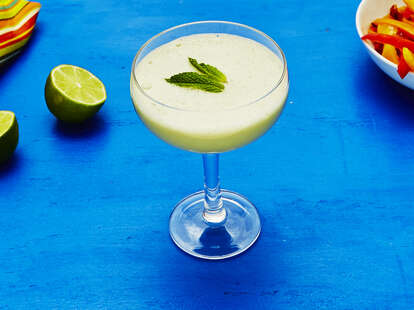 Matthew Kelly / Supercall
Matthew Kelly / Supercall
Made with horchata in place of cream and a touch of matcha powder, this refined take on a Grasshopper from New York City's Villanelle is decadent, dairy-free and downright delicious. The tea not only lends the cocktail its gorgeous green hue, but its savory, herbal flavor also balances out the lightly sweet Branca Menta and rhum agricole. It's like a liquid Andes chocolate.
Star Splitter
INSTRUCTIONS
Step one
Add the horchata, rhum agricole, agave, and Branca Menta to a shaker tin with cubed ice and shake.
Step two
Using a Hawthorne strainer, strain into a chilled coupe glass.
Step three
Garnish with a mint leaf.
Contributed by Villanelle