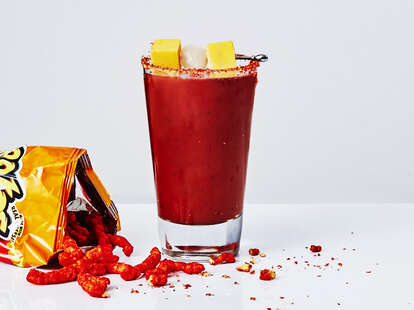 The king of brunch cocktails, the Bloody Mary, can be manipulated to satisfy your ever salty desire. It can be customized with everything from buffalo sauce to Clamato to tomatillos to one of the most extreme, fiery and crunchy snacks of all time: Flamin' Hot Cheetos. If you're a devotee of these tongue-tingling bites, you're probably willing to put them on anything, whether it be a pizza or a bagel—heck, you might even incorporate them into your art. So why not try infusing them into your brunchtime drinking? No matter how deep your love goes, this Flamin' Hot Bloody Mary will curb your crunchy cravings. Made with some of the same seasonings that give the Cheetos their kick, it comes complete with a flamin' hot rim that is dangerously spicy—even Chester Cheetah would approve.
Flamin' Hot Cheetos Bloody Mary
INGREDIENTS
2 oz

Vodka

4 oz

Tomato juice

.25 oz

Lime juice

.5 oz

Lemon Juice

1 tbsp

Flamin' Hot Cheetos

1 tsp

salt

.5 tsp

Cayenne

3 to 4 dashes

Tabasco sauce

2 dashes

Worcestershire sauce

Garlic powder

Onion powder

Black Pepper

Lime wedge

Flamin' Hot Cheetos

Spicy cheddar cheese cubes and a cocktail onion
INSTRUCTIONS
Step one
Run a lime wedge around the rim of a Collins glass, then dip it in crushed Flamin' Hot Cheetos.
Step two
Add remaining ingredients, except the garnish, to a shaker tin and fill with ice.
Step three
Roll the drink back and forth between two shaker tins until thoroughly mixed and chilled.
Step four
Pour into the rimmed Collins glass and garnish with a spear of two spicy cheddar cheese cubes and a cocktail onion.
Step five
Serve with a bag of Flamin' Hot Cheetos and prepare to feel the burn.
Contributed by Supercall