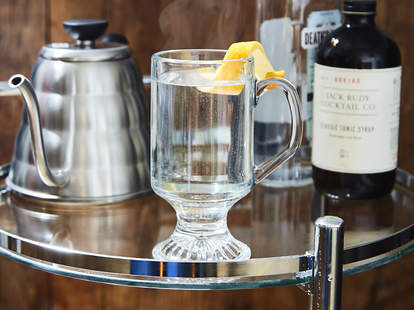 Marisa Chavetz / Supercall
Sure, an icy Gin & Tonic is one of the most refreshing cocktails … but what … if it were hot? That was the idea drinks historian and Sipsmith gin master distiller Jarred Brown came up with one night while brainstorming hot gin cocktails. The concept isn't anything new—the Gin Twist, made with gin, hot water, lemon and sugar, was the "it" drink back in the 1820s, Brown says. It was so popular, in fact, that people even wrote poetry about it. First, journalist William Maginn wrote a long ode to the drink, and then another author published a second poem in the weekly newspaper, The Mirror of Literature, Amusement, and Instruction, praising the first poem (oh, those were heady times!). Hard proof that the drink did, in fact, capture the popular imagination. But Brown's version brings the hot gin drink into modern times with the addition of tonic syrup. The result, due to the botanicals in both the gin and the tonic syrup, is complex. It's floral and fruity, with a peppery backbone and a juniper scent. It's winter festivities in a warming glass.
"Gin is much lighter than whiskey, and comes up very elegant in structure. You get all of the citrus and soft pine," he says. "Warm whiskey can be a bit of a slap in the face. But gin is a mist before your eyes." Hot Toddy fans will find themselves in a whole new world of hot drinks with new, delicate aromas to inhale.
INGREDIENTS
1.75 oz

Gin

.75 oz

Tonic Syrup

.25 oz Simple Syrup
3.5 oz

Hot Water

orange twist
INSTRUCTIONS
Step one
Combine gin, tonic syrup and simple syrup in a mug.
Step three
Top with hot water and garnish with an orange twist.
Contributed by Jared Brown