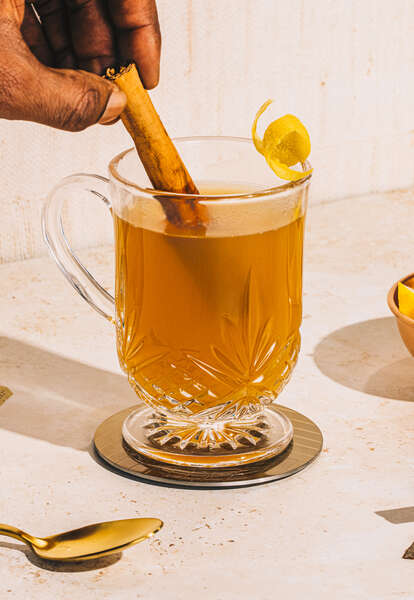 Photo by Cole Saladino for Thrillist. Photo Assistant: Mitchell Mylius. Food Stylist: Micah Morton with Big Leo. Food Stylist Assistant: Terrance Harvey.
A simple mix of hot water, sweetener, spice, and spirit (typically whiskey), the Hot Toddy is a classic folk remedy for the common cold. It also happens to be a delicious and endlessly adaptable warming cocktail. There are almost as many versions of the Hot Toddy as there are spirits being distilled.
Speaking of which, we asked Shae Minnillo, a bartender at Manolito in New Orleans, for a fresh take on the cocktail. "The versatile Toddy is seen here exhibiting some of the more soothing qualities with the help of chamomile. Honey will smooth some edges and accompany the Irish whiskey, while the dashes of bitters and absinthe will round out spice notes and give it a touch of brightness," Minnillo says of his creation.
Hot Toddy
INGREDIENTS
2 ounces

Whiskey

½ ounce

Lemon Juice

1 tablespoon

Honey

1 dash

Angostura Bitters

1 dash

Absinthe or Pastis

4 ounces

Chamomile Tea
INSTRUCTIONS
Step one
Add whiskey, honey, lemon juice, and dashes to a mug and stir to combine.
Step two
Top with chamomile tea, and garnish with lemon peel and cinnamon stick.
Recipe provided by Shae Minnillo