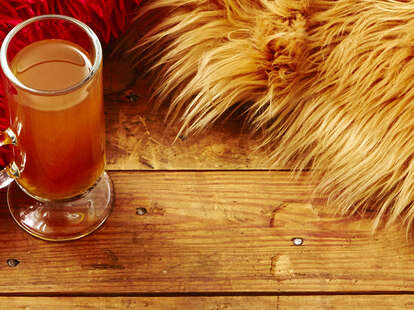 This liquid meal-in-a-glass from Chad Solomon, co-creator and head bartender at Midnight Rambler in Dallas, concentrates the flavors of sweet-and-sour chicken into a delightfully savory, boozy treat. Starting with a base of gin, Solomon brings the sweet and sour flavors into the mix with a blend of lime juice, chicken broth—yes, you read that right—pineapple syrup and Sriracha. Fruity, salty and herbal notes all come together into one amazing hot cocktail, garnished with an aromatic star anise pod.
Sweet & Sour Chicken Toddy
INGREDIENTS
.75 oz

Lime Juice

.75 oz

Pineapple Syrup

3 oz Chicken Broth
1.5 oz

Gin

.125 tsp

Sriracha

Whole Star Anise, for garnish
INSTRUCTIONS
Step one
Add all ingredients except gin to a saucepan over medium heat, and heat, stirring, until warm. (Or, add all ingredients except gin and garnish to a mug, stir, and heat until warm in a microwave.)
Step two
Add gin to a mug and top with heated broth mixture from the saucepan. (Or stir gin into heated mug from the microwave.)
Step three
Garnish with a whole star anise.
Contributed by Chad Solomon