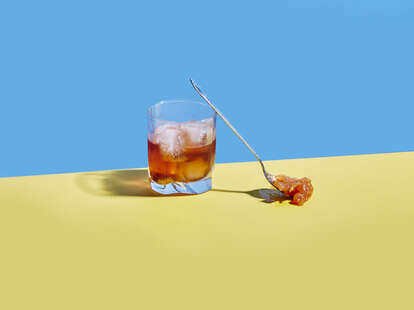 The reigning king of cocktails, the Negroni, is made for boozy marmalade. This version, which puts both oranges and grapefruit to work, is the definition of a classic marmalade—until you add Campari to the mix. Not only does the Italian aperitif lend a beautiful crimson color to the spread, it also gives it a subtly herbaceous twang. Spread a little over brie and crackers for an edible accompaniment to the real deal cocktail.
Yield: 25 ounces of marmalade
Negroni Marmalade
INGREDIENTS
2

orange

1

grapefruit

Water

.75 Cup

Campari

1.75 Cup

sugar

1

cinnamon stick
INSTRUCTIONS
Step one
Trim the ends off two oranges and one grapefruit. Remove the cores and any visible seeds. Set the seeds aside to reserve.
Step two
Slice each citrus width-wise into thin slices (a quarter-inch or smaller). Then cut those slices in half lengthwise once again. You should be left with thinly sliced quarters.
Step three
Add all the citrus to a large bowl and fill with water until the fruit is just covered.
Step four
Tightly bundle the citrus seeds in cheesecloth and add to the mixture.
Step five
Let the citrus sit, covered and refrigerated, overnight.
Step six
Remove the cheesecloth bundle and discard.
Step seven
Add the sugar and Campari to the citrus and water mixture, and stir until the sugar is fully dissolved.
Step eight
Transfer the citrus mixture to a medium-sized saucepan and add the cinnamon stick, if using. Bring the mixture to a simmer, and continue to cook until it is reduced by half.
Step nine
Pour the marmalade into a clean 25-oz jar or two 12-oz jars and let cool completely.
Step ten
Tightly secure the lids and keep the marmalade in the refrigerator.
Contributed by Supercall