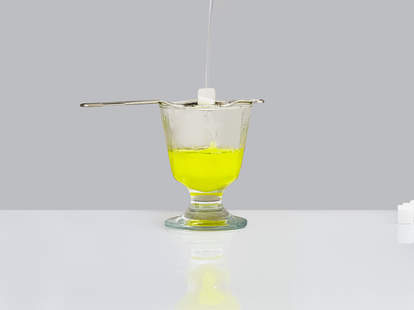 Despite absinthe's notorious reputation, over the past century and a half, the spirit has redeemed itself in all sorts of cocktails, from the Sazerac to the Corpse Reviver No. 2. But there's no cocktail quite so steeped in history or as synonymous with absinthe as the traditional Absinthe Drip. There is an art to the Drip, but it's made much simpler thanks to a couple of tools: an absinthe glass and an absinthe spoon. The glass often has bulbous bottom, which indicates how much absinthe should be added. The slotted spoon sits neatly on top of the glass and holds the sugar cube, over which water from an absinthe fountain slowly drips, simultaneously diluting and sweetening the absinthe to make it ridiculously drinkable.
The best part about this cocktail is that literally any absinthe can be used (as long it's good, quality absinthe). Some of our favorite bottles of the verdantly green spirit are Kubler's Absinthe, which uses plants rather than oils or extracts; Duplais Verte, a rich, almost creamy absinthe that is heavy on the fennel; Pernod, which made the first absinthe distillery in France and the most famous absinthe brand; and Vieux Pontarlier, which is heavy on the wormwood and the most intensely flavored absinthe you're likely to try. When concocting the Absinthe Drip make sure not to rush the process, part of the drink's appeal is having the patience to watch, and wait. Whatever you do, don't just pour absinthe from the bottle over a sugar cube and add some water to dilute it. To make the drink the way it was intended, you really should use all the appropriate equipment.
INGREDIENTS
1 to 1.5 oz

absinthe

1

sugar cube

Ice water
INSTRUCTIONS
Step one
Pour absinthe in the absinthe glass.
Step two
Rest the absinthe spoon over the rim of the glass and set a sugar cube on top.
Step three
Very slow drip a few drops of water over the sugar cube so it's fully saturated.
Step four
Place the glass directly below the spout of an absinthe fountain filled with ice water so that the water hits the sugar cube as it drips. The ideal ratio for the drink is between 3:1 and 5:1 water to absinthe.
Step five
Once the sugar cube is fully dissolved, turn the fountain off and stir with an absinthe spoon.
Contributed by Supercall