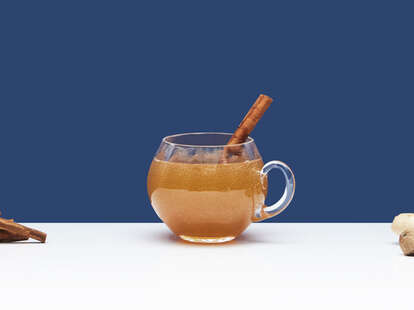 Patrick Spears / Supercall
The term wassail has been used in the English language for more than 1,000 years, beginning as a simple greeting to wish someone well. During the 13th century, the term "wassail bowl" described a large bowl of ale in which revelers would dip bread and cakes (a practice which gave birth to our modern use of the word "toast"). Nowadays, though, wassail means one thing and one thing only: delicious, hot, spiced booze.
Essentially spiked mulled cider, Wassail landed in America when the Puritans brought it with them across the pond, and it paved the way for similar drinks such as the Hot Toddy and Eggnog. Although its contents have evolved over time, the spiced, boozy libation has always been a holiday favorite. Our version, made with bourbon, sherry, pear liqueur and allspice dram, is perfect for the transition from fall to winter, when it's just cold enough to enjoy a warm beverage but the hibernial blues have yet to set in.
This hot punch deserves to be made for a crowd. So grab the biggest pot you can find, fill your kitchen with cozy cinnamon smells and serve up some winter cheer.
Wassail
INGREDIENTS
10

whole cloves

12

whole white peppercorns

.5 inch

fresh ginger

3

cinnamon sticks

1 tsp

ground nutmeg

.75 Cup

brown sugar

10 cups

apple cider

1 375-ml bottle

oloroso sherry

10 oz

bourbon

4 oz

spiced pear liqueur

.5 oz

allspice dram
INSTRUCTIONS
Step one
Bundle cloves, peppercorns, ginger and cinnamon sticks in a cheesecloth, and tie off with kitchen twine to secure.
Step two
In a large pot, combine the spice packet, nutmeg, brown sugar and apple cider over high heat. Bring to boil, reduce heat and simmer for 30 minutes.
Step three
Turn the heat to very low. Add sherry, bourbon, pear liqueur and allspice dram to the pot. Heat the mixture slowly until just warm so you don't burn off the alcohol.
Step four
Remove the spice bag and ladle the cocktail into mugs or punch cups. Garnish with a cinnamon stick.
Contributed by Supercall